Mould for Concrete and Grass CE 08 which is made from Recycled polystyrene plastic, is used to create a permeable surface of reinforced concrete that is practical, environmental and visually appealing. The empty spaces created within the compact shape of the mould, can be filled with soil and sown or filled with gravel. You can also perform various types of finishes directly on site such as color pigment of the concrete, or a surface finish with concrete and exposed gravel.
MOULD FOR CONCRETE AND GRASS CE 08 IN COMBINATION WITH REINFORCED STEEL MESH IS AN IDEAL PRODUCT FOR USE WHERE YOU HAVE SOIL MOVEMENT SUCH AS EXPANSIVE SOILS THROUGH WETTING A DRYING PERIODS.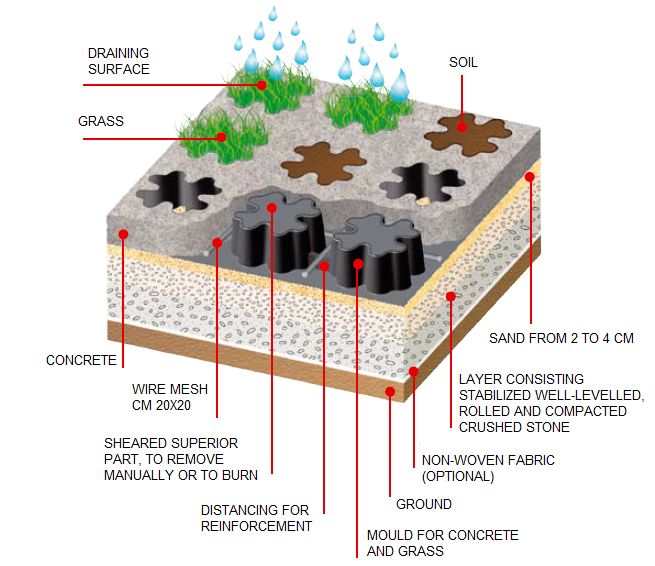 RANGE OF USES
Building car parks & parking spaces – public, private, commercial, sporting, educational & industrial, etc.;
Driveways – public, residential & commercial;
Used at the border of train rails and bus ways;
Used along roadside as verges;
Walkways, small paths, courtyards, squares, outdoor landscaping;
Alfresco living areas – BBQ & patio;
Stabilisation of canals and banks;
Helipads and Caravan Parks.
Mould for Concrete and Grass CE 08 is easy to install and handle on site. It can be cut to size using a disc grinder / cutter or hot blade. The cut pieces can be installed along with the whole pieces avoiding product waste.
On the base of CE 08 there is a spacer which is used to support reinforcement steel mesh at a fixed height during the concrete casting.
Changing the strength type of the concrete (Rck) and the diameter of the steel wire mesh, makes the installation of Mould for concrete and Grass CE 08 suitable to create an external floor resistant to various overloads.
IMPORTANT TIPS
Special Concrete Finishing Shoes are to be worn during the laying and casting process;
Use suitable technical joints in the two directions approx. every 4 – 4.5 m;
Moulds should not be exposed to the sun for an extended period of time;
Pieces of Mould must be stores in the vertical position for a long period of time.
Prepare a well- levelled, rolled and compacted rubble base, suitable for vehicular traffic. Dependent on your soil type this may vary in depth;
Over the rubble base spread a layer of fine sand, like the consistency of concrete sand, well leveled to a depth of 3 cm as the bedding layer for the Mould;
Lay Mould for Concrete and Grass CE 08 pieces side by side and not overlapped;
Lay the steel mesh 20 x 20 x cm, place it on the appropriate supports;
Concrete is cast, level with the top of the Moulds;
Once set, the tops the Mould are punched through and cleaned;
Empty spaces are filled with organic soil and seeded or alternatively filled with gravel.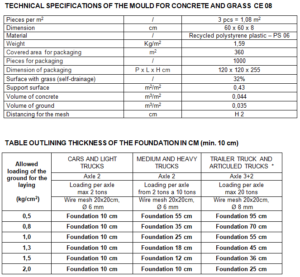 *with Ref. D.M. LL.PP. 4 May 1990
The base surface is to be made up of stabilised, well-levelled, rolled and compacted crushed stone.
Suggested features of the concrete RcK ≥ 250 Kg/cm2
NOTE : Using suitable additives as glass or metallic fibres, it is possible to help along the resistance and compactness of the cast.
The Mold for Concrete and Grass and the Garden Grid for Lawn or Gravel allow the realization of driveway and draining outdoor floors.
The images and features shown in this publication are not binding.
Plastics 3F srl reserves the right to make changes to the products without any prior notice.
Follow us on our Facebook page.